Governance
Effective December 2020, the Board will generally meet on the 3rd Tuesday of the month at 6 PM in the Upper Elementary classroom. Any exceptions will be posted here. Agendas and minutes of previous meetings can be found at the bottom of this page. To contact the Board Chair click on the word "Chair" below.
Board Member, Fund Development Committee Co-Chair
Dr. Taylor is the founder of Interactive Learning Solutions LLC (ILS), a firm
established in 2018 to address the skills students and educators need to
continuously support the Science, Technology, Engineering, and
Mathematics (STEM) fields. She is an educator with over 19 years of
experience. Her certification includes the areas of educational leadership
and science. As an active member of the community she is involved in
non-profit work, service projects and community enrichment activities. She
received her Doctorate of Education in Organizational Leadership and her
Masters of Education in Educational Administration from Grand Canyon
University in Phoenix, Arizona. Her Bachelor of Science degree in Biology
was earned at Kennesaw State University in Kennesaw, Georgia. She and her
husband are very passionate about the benefits of providing engaging
learning opportunities for their two children both in school and as a family.
Board Treasurer and Finance Committee Chair
Joseph Folsom grew up and attended school in Camden, SC. He attended the University of South Carolina and graduated with a bachelor's of science degree in accounting in 2003. He went on to earn his master's degree in accountancy with an emphasis on taxation in 2004. After completing the required post graduation two year work experience requirement and passing the CPA exam, Joseph received his CPA license in 2006. Joseph currently owns and operates his own public CPA firm, Joseph Folsom CPA, LLC. Joseph is married to Denise Folsom, a pharmacist at the Camden Wal-Mart. Joseph and Denise have one daughter, Olivia who has been a student at the school starting with the toddler class. Joseph previously served on the "charter committee" during MSC's charter application phase. Joseph, Denise, and Olivia reside in Camden.
Secretary and Fund Development Committee Co-Chair
Jacqlyn Atkins was born and raised in Ypsilanti, Michigan. She completed her undergraduate education at Michigan State University and earned a Bachelor of Science degree in Psychology. While attending Michigan State, Jacqlyn had her first exposure to Montessori education as she served as the aftercare coordinator at Stepping Stones Montessori in East Lansing, Michigan for two years. Shortly after graduating from Michigan State, Jacqlyn moved to North Carolina to pursue a graduate education and earn a master's in public health from the University of North Carolina at Greensboro (UNCG).
Jacqlyn has more than twelve years of experience in the field of Public Health and has worked in a variety of public health sectors. Jacqlyn is currently the Program Manager for National Partnerships and Strategic Alliances with the American Heart Association. Jacqlyn became a MCHES (Masters Certified Health Education Specialist) certified professional through NCHEC (National Commission for Health Education Credentialing) in 2018. Jacqlyn has a passion for all things public health, specifically transformation of communities and health systems, and work focused on minority and underserved populations that lead to the elimination of health disparities and achieving health equity.
Jacqlyn is married to Daryl Atkins, a native of Camden, South Carolina. Daryl is a Mechanical Engineer who serves as a Military Program Manager at FN America in Columbia, South Carolina. Together they have two children (Taylor and Kensley). Taylor began attending MSC in in August of 2021, and Jacqlyn and Daryl look forward to Kensley attending as well. Jacqlyn loves to spend her free time with family, as well as reading, traveling, cooking, and boating!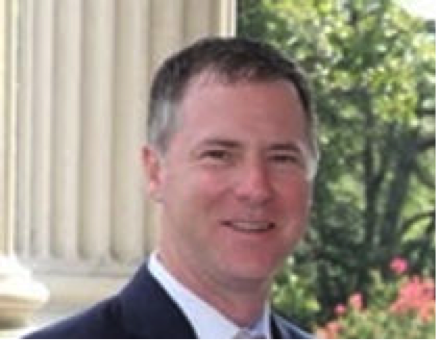 Vice President, Nominating Committee Chair, Buildings & Grounds Committee Chair
Michael Conley was born in Lancaster, South Carolina. Michael and Eva Conley have lived in Kershaw
County since 2011 but both are originally from Kershaw, SC. They have two children, Morgan who is six
and Quinn who is four. Morgan is in Lower Elementary at MSC. Presently, Michael is the Director of
Planning and Zoning for Kershaw County where he has worked since 2015. He has been working in local
government in South Carolina since 2006. After serving four years in the US Army at Fort Bragg, North
Carolina, Michael obtained his Bachelor of Arts degree in Political Science from University of North
Carolina at Wilmington. Additionally, Michael sits on the Executive Board of the United Way of Kershaw
County, is a member of West Wateree Rotary Club, and is on the Board of Directors of the PLAY
Foundation.
Board Member, Community Relations Committee Chair
D. Chenise Wiley is a native of Camden, South Carolina and has made her home in
Columbia. She earned her Bachelor of Science in criminal justice from South Carolina
State University in 1992 and went on to earn a Juris Doctorate from the University of
Tennessee College of Law in 1995. Chenise is a member of the South Carolina bar and
is admitted to practice in the District Court of South Carolina. Since 1996, she worked
primarily in private practice serving the Midlands with a focus on family law and
domestic relations, federal consumer bankruptcy, probate, and small estate planning.
Ms. Wiley is employed with the South Carolina Department of Education in the Office of
Student Intervention Services. In addition, she is in limited practice with her firm Law
Office of D. Chenise Wiley, LLC. She is a member of the Richland County Alumnae
Chapter of Delta Sigma Theta Sorority, Inc. where she serves on the chapter's Delta
GEMS and Black Women and Girls Conference committees. She has two adult children
Imani and Joshua. Imani is a local recording artist, performing vocalist, cellist, and a
private instructor for piano, strings, and voice. Joshua serves his country diligently in the
Army National Guard as a member of the Military Funeral Honors Guard. He is a
recording artist, as well. Her family attends Journey United Methodist Church in
Columbia. Chenise's passions include serving youth and young adults in her community
and connecting individuals to resources. During her downtime, she thoroughly enjoys
music, spending quality time with her family, and hopes to travel more in the near future.
Board Member, Evaluation Committee Chair
Mr. Garcia was born in Fort Sam Houston, San Antonio, Texas to an Army family that traveled the world,
as Fort Jackson, South Carolina would be their last duty assignment. He attended High School at
Richland Northeast in Columbia, SC. Mr. Garcia began his military career Active-Duty Army in 1987 and
was deployed to Operation Desert Shield /Desert Storm with First Infantry Division, 1 st Squadron 4 th
Calvary out of Fort Riley, Kansas. After completing his four-year tour in 1991, Mr. Garcia enlisted into
the South Carolina Army National Guard and completed his tour of duty in 1995 and during that time he
was pursuing his studies at Midlands Technical College graduating with an Associates Arts Degree in
Human Services in 1993. He then transferred to the University of South Carolina and graduated with a
Baccalaureate Degree in Interdisciplinary Studies with a focus on Sociology and Psychology in 1997. In
1997, Mr. Garcia enlisted into the United States Marine Corps. He was stationed at Marine Corps Air
Station Beaufort where he was part of Marine Fighter Attack Squadron 251 deploying aboard the USS
John F. Kennedy in support of Operation Southern Watch in the Persian Gulf. After his tour duty in the
Unites States Marine Corps, Mr. Garcia enlisted into the South Carolina Army National Guard again in
2001.While in South Carolina Army National Guard Mr. Garcia assumed the responsibilities as State
Personnel Security Manager as a full-time member of the agency until his retirement in April 2018
totaling over 29 years of service. Currently, Mr. Garcia works as a Senior Data Integrity Specialist for
Absolute Total Care and is working on another Baccalaureate Degree in Integrated Information
Technology from the University of South Carolina. Mr. Garcia is avid supporter of the University of
South Carolina Athletics programs and Veterans programs. He is married to Rachel Gunter-Garcia and
they reside in Lugoff, South Carolina. Their daughter Savannah currently attends Primary C at MSC.
Tiffany Atkins was born in San Diego, CA. Her parents served in the US Navy and they also lived in Oahu, HI before finally relocating to Peachtree City, GA. Tiffany attended the University of South Carolina and got her Bachelor of Arts degree in Political Science and International Studies in 2007. She then went on to earn her Juris Doctorate from Mercer University in Macon, GA in 2010. She is barred in the state of Georgia. She briefly worked at King and Spalding as a project attorney in Atlanta, GA before returning to Columbia, South Carolina to work at the US Department of Veterans Affairs. She has been with the VA as a Rating Veterans Service Representative since 2010. Tiffany is married to Jerry Atkins, Jr., a Camden native, who works in Information Technology. They have two children, Evan and Cassidy. Evan has attended MSC since he was two, and Cassidy since she was an infant. Tiffany is also a member of Delta Sigma Theta Sorority Inc.