Governance
Effective December 2020, the Board will generally meet on the 3rd Tuesday of the month at 6 PM in the Upper Elementary classroom. Any exceptions will be posted here. Agendas and minutes of previous meetings can be found at the bottom of this page. To contact the Board Chair click on the word "Chair" below.
After graduating from South Dakota State University and University of North Dakota Joan became an elementary school teacher on an Indian reservation in South Dakota. Her journey has consisted of living in 6 US states, visiting several European and Central America countries, owning a day care center, being a foster parent to troubled teens and having 4 different live-in European au pairs as our children were growing up. She retired after 33 years with Siemens Medical as a software requirements engineer. She and her husband Daryl live on Lake Wateree with their granddaughter, Vanessa, who attends MSC. Her life journey has been full of adventure. Her closest friends tell her that she should write a book but they caution her that people would think the story had been misclassified and should have been in the Fiction aisle. The banners she continues to promote in my retirement are education, mental health and addiction recovery.
Board Member, Fund Development Committee Chair
Kaitlyn Guinn was born and raised in Columbus, Ohio. She moved to South Carolina in 2007 to attend The College of Charleston. While a student, Kaitlyn had a calling to service and joined the South Carolina National Guard (SCNG) as a medic. After serving five years as a medic and deploying to Afghanistan, Kaitlyn was accepted into U.S. Army flight school and graduated as a rated Apache Pilot in 2015. From 2015-2018 she served as the Medical Evaluation Board's Officer in Charge to oversee the medical retirement process in the SCNG. From 2018-2020 She was the State Equal Employment Specialist, responsible for developing and monitoring the State Equal Employment Opportunity program for the SCNG and advised senior officials on EEO matters within the agency. In 2020, she went part time with the SCNG to be the CFO for The Catery on Broad in Camden, SC. She has lived in six different states throughout her military career, is a combat veteran and holds her commercial rotary wing pilot license. She belongs to various military and aviation professional organizations. She is involved with two women in STEM programs in Richland County and guest speaks at schools in Richland & Kershaw County. She and her Camden-native husband, Tripp Guinn, reside in Camden. They have two children, Lilli Guinn (Camden Middle School) & Eli Guinn (MSC Infant Class). Tripp & Katie are involved with the community by supporting Food for The Soul, United Way, The Community Health Clinic, COTA for Faith & Kershaw County Night to Shine.
Tiffany Atkins was born in San Diego, CA. Her parents served in the US Navy and they also lived in Oahu, HI before finally relocating to Peachtree City, GA. Tiffany attended the University of South Carolina and got her Bachelor of Arts degree in Political Science and International Studies in 2007. She then went on to earn her Juris Doctorate from Mercer University in Macon, GA in 2010. She is barred in the state of Georgia. She briefly worked at King and Spalding as a project attorney in Atlanta, GA before returning to Columbia, South Carolina to work at the US Department of Veterans Affairs. She has been with the VA as a Rating Veterans Service Representative since 2010. Tiffany is married to Jerry Atkins, Jr., a Camden native, who works in Information Technology. They have two children, Evan and Cassidy. Evan has attended the school since he was two, and Cassidy since she was an infant. Tiffany is also a member of Delta Sigma Theta Sorority Inc. and is an active member of Gaines Baptist Church.
Board Member, Evaluation Committee Chair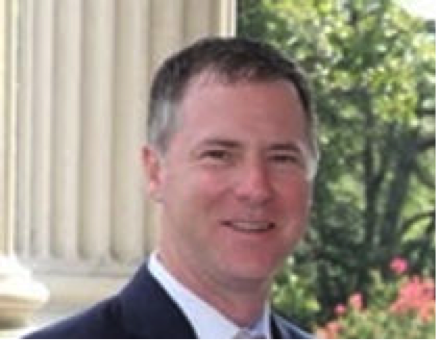 Vice President, Strategic Plan Committee Chair
Michael Conley was born in Lancaster, South Carolina. Michael and Eva Conley have lived in Kershaw County since 2011 but both are originally from Kershaw, SC. They have two children, Morgan who is six and Quinn who is four. Morgan is in Lower Elementary at MSC. Presently, Michael is the Director of Planning and Zoning for Kershaw County where he has worked since 2015. He has been working in local government in South Carolina since 2006. After serving four years in the US Army at Fort Bragg, North Carolina, Michael obtained his Bachelor of Arts degree in Political Science from University of North Carolina at Wilmington. Additionally, Michael sits on the Executive Board of the United Way of Kershaw County, is a member of West Wateree Rotary Club, and is on the Board of Directors of the PLAY Foundation.
Governance & Policy Review Committee Chair
Jim Henry is a native of Lancaster, SC. He is a graduate of the University of South Carolina with A B.S. in Criminal justice. He is a graduate of The South Carolina Criminal Justice Academy and has worked in law enforcement for 21 years. Jim currently is an Agent with The South Carolina Department of Probation, Parole and Pardon Service where he supervises the intensive offender caseload as well as managing the GPS tracking program for the Kershaw county office. Jim also holds a certificate in Applied Behavior Analysis from Penn State University. He is married to Dr. Lara Creel Henry who is a veteran educator in the Kershaw County School District and is currently teaching Social Studies at Lugoff-Elgin High School. They have three children: Jenna, Luke and Rachel. Rachel is currently a student in Primary at MSC. They reside in Elgin.
Board Treasurer and Finance Committee Chair
Joseph Folsom grew up and attended school in Camden, SC. He attended the University of South Carolina and graduated with a bachelor's of science degree in accounting in 2003. He went on to earn his master's degree in accountancy with an emphasis on taxation in 2004. After completing the required post graduation two year work experience requirement and passing the CPA exam, Joseph received his CPA license in 2006. Joseph currently owns and operates his own public CPA firm, Joseph Folsom CPA, LLC. Joseph is married to Denise Folsom, a pharmacist at the Camden Wal-Mart. Joseph and Denise have one daughter, Olivia who has been a student at the school starting with the toddler class. Joseph, Denise, and Olivia reside in Camden.